The Source for DTG Printers,
Automatic Pretreatment Machines,
Direct-to-Garment Inks and Supplies
DTG Kiosk Digital Direct-to-Garment Printer

Print right onto T-shirts and other garments.
Perfect for screen printers, embroiderers, promotional products, retail & specialty stores, trophy dealers and more.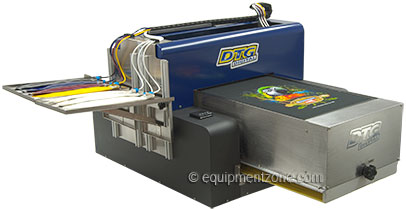 On Sale
$7,495
Completely Refurbished
by our Service Division.
Includes Exclusive Major Upgrades
and One Year Warranty.
Prints on White, Light, and Dark Garments.

A Powerful DTG Printer
• Excellent prints
• Great support
• The perfect entry-level direct-to-garment printer

Everything You Need
You'll get a full printing package for just $8,495. Just add a heat press.

Reliable
• Proven technology
• 12 month limited warranty
• Phone and Online Support

Plus
• Simple, straightforward maintenance
• Equipment Zone exclusive upgrades included.
A Complete Printer Package Ready to Print !
Includes:
New Set of CMYK + White Ink
New Pretreatment
RIP Software
New EZ Pro Bulk System
USB Cord
New Printhead & Capping Station
And more!
Click Here to Contact Us
VIDEO: DTG Kiosk In Action
Watch the video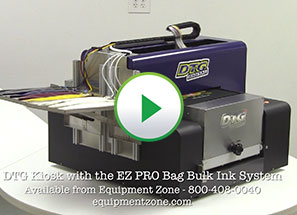 VIDEO: DTG Kiosk Cap Attachment
Watch the video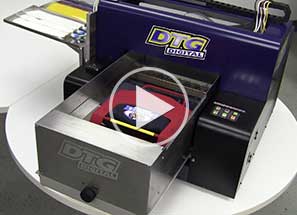 SpeedTreater-TX
Auto Pretreater
The perfect companion for your printer.
Click here
Leasing
Available through ACG Equipment Finance.
Click here
Accessories
Available accessories for the DTG Kiosk.
Click here
Pictures
View the Digital Direct to Garment Printer and get inspired!
The Equipment Zone DTG Kiosk Package - the lowest cost safe way to get into the digital garment printing business.
Contact Us
Equipment Zone, one of the largest digital direct to garment printer vendors in the world and largest support, service and supply center, offers you a low cost, worry free, safe way to enter the world of digital garment printing.
With our fully refurbished DTG Kiosk Digital Garment Printers, together with our major upgrades (including our exclusive EZ PRO Bulk Ink System), one year warranty and one year free tech support, you are purchasing a fully reconditioned printer that substantially outperforms a brand new unit.  You also get full white ink / dark shirt printing capability. You'll print incredibly detailed bright images on white, light, and dark garments.
With the DTG Kiosk Digital Garment Printer you can print any image you can see on a computer screen right onto a garment in full, bright colors. Shirts can be printed in as little as one minute, depending on the size of the design. This is not sublimation and this is not heat transfer. Print directly on t-shirts, caps, towels, mouse pads, bandanas, bibs, tote bags, panties, thongs, baseball caps, and dozens of other textile items.
All wear items (including the print head, capping assembly, filters, carriage assembly, carriage belt, carriage motor, tray motor, encoder strip, encoder spring) are replaced with brand new parts. Performance Upgrades exclusively developed and manufactured by Equipment Zone are also installed on the Fast T-Jet Printer, giving it far superior performance and production capabilies then the original stock printers.
We are so sure about the quality of our refurbished printers that we include a one year parts and labor warranty.  One year free technical support by phone or email is also included.
We also include a brand new, highly acclaimed, EZ PRO Bulk Ink System and a brand new set of ink.
Technical Specifications
Packing List:
DTG Kiosk Digital Garment Printer
NEW EZ PRO Bulk Ink System - a major upgrade - Equipment Zone Exclusive: $449.95 value
White Ink Printing Capability for printing dark shirts
13" x 18" Shirt Holder
New EZ FastINK 8 oz bottles or bags of Cyan, Magenta, Yellow, and Black Inks
New White Ink Pretreatment 1 gallon
EZ FastINK 16 oz. bottle or bag of New White Ink
Supplies Included:
50 Sheets Pretreat Paper
50 Sheets Silicone Paper
New Refillable Cleaning Cartridge System
RIP Software Program
Manuals and DVDs.
Features:
12 Month Limited Warranty - Includes Excellent Phone and Internet Tech Support
Has a 4" deep bed for printing on thick items like sweatshirts and hoodies
Prints on White, Light, and Dark Goods
Max print size is 12" x 21" (30.5 x 53cm)
Print a full size 12" x 12" (30.5 x 30.5 cm) print on white or light colored shirts in as little as one minute
Print a small chest print in 20 seconds
Print a dark shirt with white ink in 3 minutes
Has a laser light sensor to tell if a garment is in the way of the print head
Includes sophisticated RIP software for excellent color reproduction
Prints vibrant, washfast prints on white, light and dark shirts VERY FAST
Excellent washability
Excellent detail...better than screen printing
Print graphics created in any graphics program! Print on any color shirts
Completely mobile - great for events.
Dimensions and Weight:
47 inch (119 cm)
28 inch (71 cm)
17 inch (43 cm)
90 lbs. (41 kg)
120 lbs. Shipped (54 kg)
Power Requirements:
• AC 110 volt or 230 volt 4 amps
• Just plugs into any standard electric outlet.
Warranty / Support Information: This DTG Kiosk includes a one-year limited warranty on parts and labor from Equipment Zone. This warranty is valid only to the original buyer of this printer and is not transferable. Technical support by phone or email is available at no charge from Equipment Zone to the original purchaser for one year. The limited warranty does not include the print head. Defective parts shall be replaced at no charge for a period of one year. If it is determined that the printer needs repair by a technician the printer shall be be brought to Equipment Zone or shipped in freight prepaid. Full warranty statement is available upon request.
Many different package configurations, including heat presses and automatic pretreatment machines, are available. Please contact us for an immediate quote.
Direct-to-Garment

Equipment Zone, Inc.
Address:
517 Commerce Street
Franklin Lakes
New Jersey 07417, USA
Phone:
1-800-408-0040 or
(01) 201-797-1504
Email:
sales@equipmentzone.com
Learn all about direct-to-garment printing with Equipment Zone's email newsletter.
We won't share your personal information with anyone.