Printer Overview
Introducing the Epson SureColor F2000 Series DTG Printer
The Epson F2000 has the latest advancements and technology in the garment printing industry. With a maximum printing area of 16"(in) x 20"(in), the F2000 provides outstanding performance and professional grade quality on each and every print job.
The 2 options in the Epson F2000 series are the White Ink Edition and the Color Edition. The White Ink Edition is capable of printing on light OR dark colored garments. The Color Edition can only print on light colored garments.
The F2000 is a reliable printer, and is capable of handling high production speeds. It's a well built, reliable, low maintenance DTG printer.
Click here to watch a video of the F2000 printing from start-to-finish.
Powerful

Built For Production
At long last, the new standard for direct-to-garment printing has arrived. The SureColor F2000 series printers are constructed around a purpose-built Epson MicroPiezo® TFP® print head. Featuring the Epson UltraChrome DG ink system, this powerful and professional printer will revolutionize the digital garment printing industry.
Reliable

The New Standard
Three years in the making, the Epson team of mechanical, chemical and software engineers have built the ultimate direct-to-garment printer in the SureColor F2000. This new Epson DTG device has been created from the ground up, from print head to ink, for the singular function of precision and professional garment decoration.
Fast

The Future is Now
Finally, an affordable and professionally built direct-to-garment printer has arrived in the marketplace. The Epson UltraChrome DG inks, created exclusively for garment decoration, will give you bright and vibrant color. Improved production speeds, professional printer construction, and a machine backed by the Epson name brings you the future of direct-to-garment printing, today.
Features & Benefits
State of the Art Direct-To-Garment Imaging Quality & Performance
5-color Direct-To-Garment Printer
Uses Epson's new Ultrachrome® DG inks - Available at lowest price Equipment Zone!
PrecisionCore® TFP® Print Head - The innovative print head produces higher print quality and production speeds
Maximum resolution of 1440 x 1440 dpi for White Ink Edition (SCF2000WE) & 1440 x 720 dpi for Color Edition (SCF2000SE).
Garment imaging area up to 16" x 20"
Designed for simple maintenance and high reliability
Garment Creator imaging software included
Warranty Coverage under Epson Preferred Protection Plan
5-Color UltraChrome DG Ink Technology
Precise image printing quality with outstanding reliability. Delivering a smooth, high density ink discharge with phenominal results. An additional ink filter screens the ink a second time before entering the print head to further improve performance, reliability and print quality.
Easy Maintenance & Relability
The F2000 was built to have little user maintenance. The installed fabric wiper cleans the print head surface before & after every print.
PrecisionCore TFP Print Head
A durable build and precision ink control provides high print clarity and sharpness on garments. With 1,440 nozzles per inch dedicated for white inks & up to 720 nozzles per inch for color ink, higher print speeds are achieved.
Imaging Software
The Garment Creator workflow software by Epson is included with the purchase of the F2000. This simple, easy to learn sofware includes all the tools needed to layout your design, configure colors and more. Available for both Mac OSX & Windows operating systems.
Accessories
All parts & accessories are available at Equipment Zone's Online Store at the lowest price available.
Visit Online Store
Epson F2000 UltraChrome DG Ink
View UltraChrome DG Ink
Epson Pretreatment
View Epson Pretreatment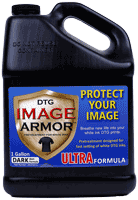 Image Armor Ultra & Light Pretreatment
View Image Armor Pretreatment