Customers want direct-to-garment — and your competition might not have it yet


A direct-to-garment printer can give embroiderers the competitive edge in a tough economy. Adding direct-to-garment to an existing embroidery business gives an embroidery shop a leg up over screen printers and other embroiderers.
As the owner of an embroidery shop, you already have most of the skills and experience necessary to run a successful and profitable direct-to-garment printing business.
You already have a customer base that's willing to spend for quality instead of one- or two-color screen printing. They want products you don't offer, like large prints on t-shirts, sweatshirts, tote bags, towels, and other garments.


With a direct-to-garment printer, you'll be offering them premium quality printing, better than screen-printed products that they can get elsewhere.


Adding a direct-to-garment printer to your existing business helps keep customers in-house and, more importantly, keeps your customers from dealing with your competition. Embroiderers with direct-to-garment printers offer large designs while decreasing stitch count.


It's easy to add to your existing business, since you don't need very much space, you only need 1 person to print, and you already have most of the skills and knowledge you need to operate the printer.


Direct-to-Garment means no digitizing

Direct-to-garment printing lets you print soft, colorful, and high-quality designs and photos onto garments. Basically, anything you can see on a computer screen, you can print onto a shirt.


It doesn't have any of the mess of screen printing, and there are no screens to make or harsh chemicals to use. Everything is water based.


A direct-to-garment printer can reproduce thousands of colors all on its own, so you don't have to worry about making separations or doing any digitizing. Direct-to-garment prints require no digitizing whatsoever.


Large prints for less money and less time
The average direct-to-garment print, about 10 inches high by 12 inches wide, only takes about a minute to print on a light shirt. That kind of print costs about 35 cents, no matter how many colors you print or how complicated your design is. An average dark shirt takes under 5 minutes to print and costs about 2 dollars.
How it works
Working with a direct-to-garment printer is an easy 3-step process.


1) Load the shirt board
The printer comes with a shirt board that loads much like an embroidery hoop. Just put the garment on top of the shirt board, center the garment, and lock it down with the frame. Then, slide the shirt board into place on the printer and press a button to load in the garment.
2) Tell the computer to print
After that, everything you need to do is on the computer. Position your graphic inside your art software and click print.


3) Cure the shirt on a heat press
After your design is printed, take the garment off the shirt board and put it on the heat press. The heat press will evaporate the water from the water-based ink, leaving just the pigments. This makes the shirt very washfast.


Embroiderers already have most skills and supplies


What do you need to get started direct-to-garment printing? You probably have most of it already.


Hardware: First things first: you need a direct-to-garment printer, like Equipment Zone's Veloci-Jet XL. Next, you need a computer. You also need a heat press. These are the basic components of any direct-to-garment business.


Graphics: If you do your own digitizing, you probably already own Adobe Photoshop, Illustrator, or Corel Draw. The graphics you create in those programs can be printed straight to a direct-to-garment printer – no digitizing necessary.


If you have another type of digitizing program, it's likely to be compatible, too. That means you can print your current library of artwork on a direct-to-garment printer.
But you can also purchase libraries of art made especially for direct-to-garment printing. Some of that artwork has hundreds or thousands of colors and prints out beautifully.


If you farm out your artwork to a digitizer, you won't have to anymore. All you need a good, high-quality graphic. Any graphic designer, not just one that specializes in embroidery, can create that for you.


Environment: You need very little space for a direct-to-garment shop. 100 square feet is all that's necessary for a comfortable working environment, and some shops can get by on less than that.


The area you keep your printer in should be around 72° Fahrenheit at 40-60% humidity and free from dust and lint.


Knowledge: Before you purchase a direct-to-garment printer, check to see if training is included. The most important thing about being trained rather than learning how to print yourself is that, after training, you should be ready to print right away.


Like an embroidery machine, setting up artwork and loading a direct-to-garment printer is just about the same every time. Once you know what you're doing, you should be ready to print just about anything.


Print on a variety of goods – then add embroidery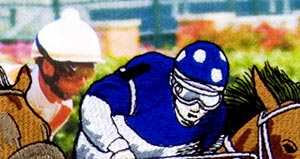 Close-up:
Easily embroider over a direct-to-garment print for a unique multi-media look.
You can print on a variety of goods, like sweatshirts, towels, and even painter's canvas. Mouse pads will print well. You can even make a direct to garment print and then embroider on top of it.




Print virtually any design or photo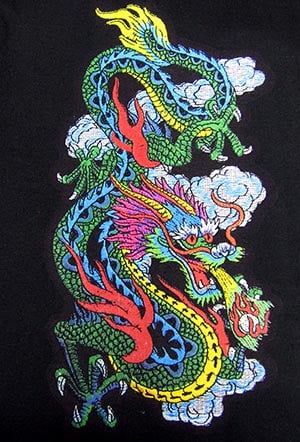 Easy embroidery patch:
An embroidery patch was photographed, then printed on a direct-to-garment printer with this impressive result.
You can print virtually anything you can see on the computer screen. That includes photographs, drawings, vector graphics, and bitmap graphics.
Direct-to-garment printers have been known to get creative, like in the dragon design to the right. Originally an embroidery patch, a printer took a photo of the patch, cut it out in Adobe Photoshop, and printed a design of the patch on a direct-to-garment printer.

From a distance, you think it's an embroidery patch. It's not. It's a direct-to-garment print 11 inches high, printed in about 5 minutes for only $2 or so.









Print small quantities for big profit


One of your biggest advantages as a direct-to-garment decorator is your ability to have no minimums. You can print one garment, fifty, or five hundred.


Plus, you don't have to limit the amount of colors. Printing millions of colors takes as much time and effort as printing just one. A direct-to-garment printer can print sharp details that other processes can't match.


What to look for in a printer
It's time to purchase your hardware. Take your time researching who to purchase your machine from and which machine to purchase. How long is the machine under warranty? How easy is it to get support? Remember, this is the company that you're going to be calling for support in the future and the machine that you'll be using day in and day out.


How easy is it to use the RIP software that comes with the machine? RIP software is the essential piece of software that translates between the computer and the printer. The easier the software and the printer are to use, the easier it will be to have employees do the printing in the future.


Getting a machine with one or two timesaving features or a fast print speed can make a big difference over time. You'll be printing thousands of shirts with this machine, so make sure it's robust and reliable.


Different direct to garment printers have different resolutions. Some can only print 600x600 dpi, providing less detail than printers like the Veloci-Jet XL, which can print at 1440x1440 dpi.


Some direct to garment printers can only print on white or light shirts. In some areas, dark shirts are preferred much more than light shirts, in which case you want to purchase a printer that has white ink to print on dark shirts.


Once you've purchased your printer, you need to learn how to use and maintain it. If you don't know how to print, you won't be able to make a profit. That's why Equipment Zone includes training with the purchase of a Veloci-Jet XL. It's essential that you get up and running quickly.
A heat press can be very useful


The heat press you purchase with your direct-to-garment printer can be used for a variety of tasks. You'll want to purchase a set of heat pressable numbers and letters for school or sports team jerseys.


When you deliver these simple numbered jerseys, include a sample of what you can do with your direct to garment printer. For example, print a picture on a shirt and tell a coach that you can print the team's photo on t-shirts or even print individual pictures of the players on shirts for their parents to wear. This could turn into a nice marketing opportunity.


Gain the competitive edge with a direct-to-garment printer


Call Equipment Zone at 1-800-408-0040 or visit us on the web at http://www.equipmentzone.com.


Equipment Zone's digital garment printers start at $8,999. Plus, every printer comes with a warranty and access to Equipment Zone's technical support department, the largest support and service department in the industry.
Equipment Zone also manufactures the Veloci-Jet XL, one of the industry's fastest printers. It has a compelling feature set and a great price point just $16,995. Plus, it comes with free training and a 12 month warranty.


An all-new Veloci-Jet XL, Geo Knight DK-20 heat press with pop-up attachment, and a new computer with a fast processor and 2-4 gigabytes of RAM is all you need. That means that embroiderers can add direct-to-garment printing for $10,000 - $20,000. One direct-to-garment printer can produce hundreds of thousands of dollars in profit over time.


Equipment Zone
17-20 Willow Street, Fair Lawn, NJ 07410 USA

Toll-free: 1-800-408-0040
International: (01) 201-797-1504
Fax: 201-797-1505
Email: info@equipmentzone.com
Sections :