Epson SureColor F6200 Sublimation Printer
Now Only
$6,495*
List Price - $8,495
Epson SC-F6200, Epson F6200, F6200 Sublimation, F6200 Printer, Epson F6200 for sale, Epson F6200 price
Reliable Everday Performance
The Epson SC-F6200 is a well-built, reliable printer with outstanding performance. All of the components of the printer work together to make one great system. From the print head and ink technology, to the printer engine and software. The Epson SC-F6200 truly is a great & reliable printer.
Industrial-Level
Sublimation Printing
Achieve faster sublimation printing speeds while maintaining optimal printing quality with the F6200. The 44" inch maximum print width of the F6200 is capable of handling high levels of printing production. Ultimately you can get more done in less time.
Advanced Printhead Technology
The Epson team set forth to develop all-new printhead technology for dye-sublimation printing. The results were rewarding because of the MicroPiezo ® TFP print head. This print head works in conjunction with the Epson F6200 and utilizes the latest advancements in image printing with fast, reliable, unmatched quality.
Print Technology:
Advanced PrecisionCore TFP Print Head
8-channel, drop-on-demand, ink jet head
Continuous Ink Supply System, 1.5L High-Capacity Tank
Minimum Ink Droplet Size:
5.3 picoliters
Maximum Print Resolution:
1440 x 720 dpi; 720 x 720 dpi; 720 x 360 dpi

Print Speed:
Speed (720 x 360 dpi) 634 SFPH
Production (720 x 720 dpi) 325 SFPH
High Quality (1440 x 720 dpi) 119 SFPH
Nozzle Configuration: 720 nozzles per Color with Variable Droplet Size
Ink Configuration
Ink Supply System-chip

Replacement Ink:
UltraChrome DS Ink
High Density Black Ink Packs (T741X00)
Cyan Ink Packs (T741200)
Magenta Ink Packs (T220320)
Yellow Ink Packs (T741400)
System Requirements:
Operating Systems:Windows® 7, 8 and 10
2GB RAM
120GB hard drive
DVD-ROM drive
Temperature:
59° to 95°F (15° to 35°C
Dimensions:
103"(W) x 40"(D) x 52"(H)
Weight:
1 207 lbs (Does not include)
Read more about Epson's
Rewards Program
What is a dye-sublimation printer?
Dye-sublimation printing is a printing process that uses heat to transfer dye onto the desired medium such as cardstocks, paper, various fabrics and even plastics. When printing with a Dye-Sublimation printer such as the EPSON F6200, there's an enormous selection of print applications to transfer designs to. The process is very simple and requires three main ingredients. 1.) Sublimation ink, 2.) Heat and 3.) Pressure. With the right materials and the use of your imagination, the creative possibilities are almost endless!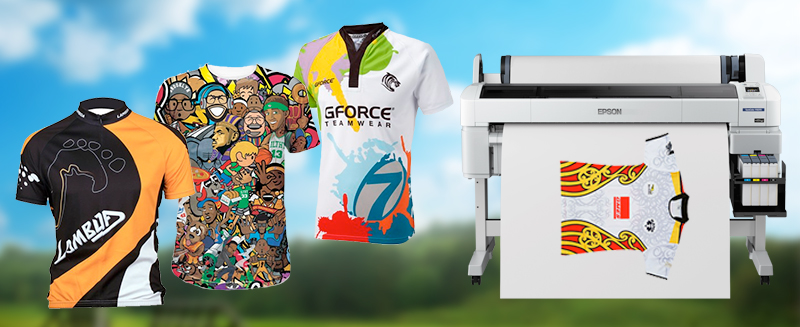 What can I have my designs transferred to?
Dye-Sublimation printers employ heat to transfer the printed dye onto materials. With the right heat source, the list of materials that can be printed on is almost endless! Plastics, cardstocks, papers, fabrics and many more mediums are known to be used with dye-sublimation printing. Some samples are coffee mugs, mousepads and sports jerseys. However, users are always finding new, innovative mediums to transfer their designs onto. These include ceramic tiles, shoes & other apparel, business supplies & more!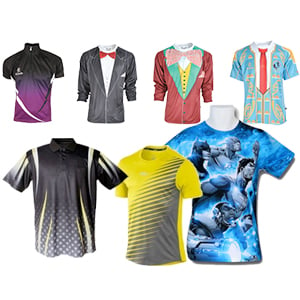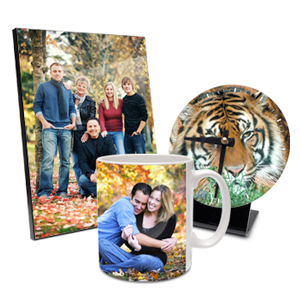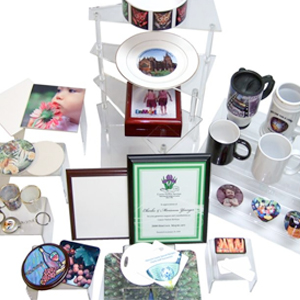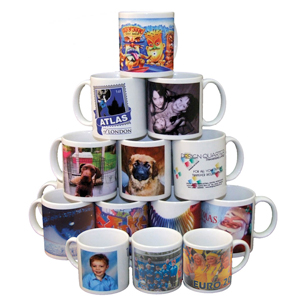 Watch the video below on Epson's F-Series dye-sublimation printers