SpeedTreater-TX Automatic Pretreater
The #1 Automatic Pretreatment Machine In The Industry
The choice for direct-to-garment operators who want spraying pretreatment to be easy, consistent and time saving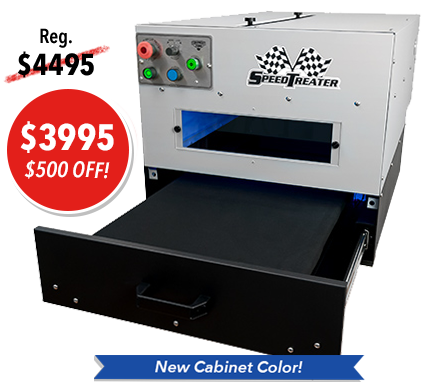 $3995
FALL SPECIAL!
Reg. $4495 - $500 OFF!
'
Order Now - In Stock
Pretreating is now as easy as pressing the green button.
Works with any brand of pretreatment.

Professional Quality Pretreat Machine
No air compressor required to buy!
All electric, quiet operation
Powder coated rustproof all steel construction

Become an Expert Pretreater Overnight
If you can load a shirt, close a drawer and press a button, you'll be an expert pretreater.

Reliable & Consistent
Expertly Constructed
One year limited warranty
Easiest Maintenance

Plus
Fully contains pretreat spray
Goes right next to your D-T-G Printer
Adjustable spray volume
Start Pretreating Garments Now!
Table Top Machine
Up to 17" x 24" Spray Area
One-Year Limited Warranty
Rustproof powder coated steel cabinet
Precise Spray Length Control and More!
Lifetime Technical Support