Epson SureColor F9370 Dye-sublimation Printer
Now Only
$21,995
List Price - $27,995
Epson SC-F7200, Epson F7200, F7200 Sublimation, F7200 Printer, Epson F7200 for sale, Epson F7200 price
Reliable Everday Performance
The Epson SureColor F9370 has reliable and consistently high-quality performance. Its advanced auto paper-tension control and the fabric head wiper enables simple, continuous production. Optimized specifically for dye-sublimation inks, the Epson F9370 is a great & reliable printer.
Industrial-Level
Sublimation Printing
UltraChrome DS Ink Technology with High-Density Black ink produces vibrant colors and dosen't ignore high contrasts. And with high-capacity ink tanks to hold up to 3 L per color, you can have less time ordering more ink!
Advanced Printhead Technology
The Epson team set forth to develop all-new printhead technology for dye-sublimation printing. A print head air-guard guides the airflow around itself, thus ensuring ink droplets are laid on paper to produce smooth tones and the smallest grain as possible. This print head works in conjunction with the Epson F9370 and utilizes the latest advancements in image printing with fast, reliable, unmatched quality.
Printing:
Dual advanced PrecisionCore® TFP® 8-channel, drop-on-demand, inkjet printhead with ink-repelling coating technology
Minimum Ink Droplet Size:
Smallest droplet size: 5.3 picoliters; Variable Droplet Technology
Maximum Print Resolution:
1440 x 720 dpi
Speed: up to 1,169 sq ft/hr
Fashion/signage: up to 1,004 sq ft/hr
Sports apparel: up to 568 sq ft/hr
Nozzle Configuration:
Color and monochrome heads; 1,440 nozzles x
Ink:
UltraChrome DS with High-Density Black ink; 4-color
Ink Configuration:C, M, Y, HDK
Replacement Ink:
UltraChrome DS Ink
High Density Black Ink Packs (T741X00)
Cyan Ink Packs (T741200)
Magenta Ink Packs (T220320)
Yellow Ink Packs (T741400)
General:

Operating Systems:Windows® 10 and 8.1
Server Systems: Wasatch SoftRIP TX Server
System Requirements: Minimum PC Requirements: 2GHz CPU, 2GB RAM, 120GB HDD, DVD-ROM or Internet connection
Recommended PC Specifications: 3GHz or higher quad core CPU, 8GB RAM, 500GB SSD, and high-speed Internet connection
Temperature: Operating: 59 ˚ to 95 ˚F (15 ˚ to 35 ˚C), Operating (recommended): 59 ˚ to 77 ˚F (15 ˚ to 25 ˚C)
Humidity: Operating: 20 – 80% (no condensation), Operating (recommended): 40 – 60% (no condensation)
Sound Level: Less than 59 dB(A) according to ISO 7779
Dimensions:103" x 37" x 53" (2,620 mm x 934 mm x 1,332 mm) (W x D x H)
Weight: 639 lb (290 kg)
Eco Features: RoHS compliant
Recyclable product - Epson America, Inc. is a SmartWay® Transport Partner5
Epson UltraChrome DS Ink is certified by ECO PASSPORT by OEKO-TEX®, meaning it's safe for adults, children and babies.
Country of Origin: China
Warranty: Standard 1-year limited warranty. Optional Epson Service programs available for a total of 3 years of coverage.
Read more about Epson's
Rewards Program
What is a dye-sublimation printer?
Dye-sublimation printing is a printing process that uses heat to transfer dye onto the desired medium such as cardstocks, paper, various fabrics and even plastics. When printing with a Dye-Sublimation printer such as the EPSON F9370, there's an enormous selection of print applications to transfer designs to. The process is very simple and requires three main ingredients. 1.) Sublimation ink, 2.) Heat and 3.) Pressure. With the right materials and the use of your imagination, the creative possibilities are almost endless!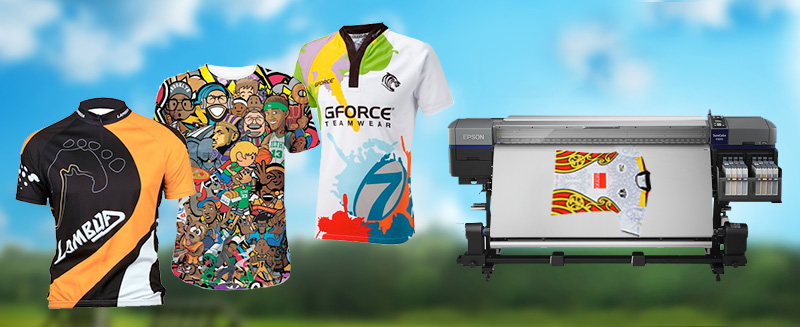 What can I have my designs transferred to?
Dye-Sublimation printers employ heat to transfer the printed dye onto materials. With the right heat source, the list of materials that can be printed on is almost endless! Plastics, cardstocks, papers, fabrics and many more mediums are known to be used with dye-sublimation printing. Some samples are coffee mugs, mousepads and sports jerseys. However, users are always finding new, innovative mediums to transfer their designs onto. These include ceramic tiles, shoes & other apparel, business supplies & more!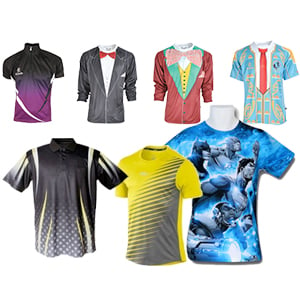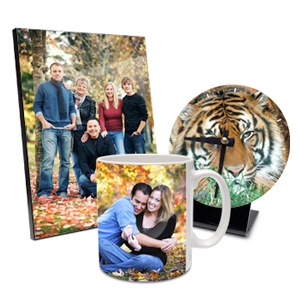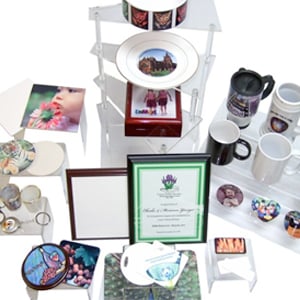 ---
Watch the video below on Epson's F-Series dye-sublimation printers
Why purchase a F9370 printer through Equipment Zone?
Equipment Zone is an authorized and trusted retailer of Epson products. We carry various Epson printers, inks & supplies at the lowest prices on the market. We stand by everything we sell, and will stand by you to make your purchase easy and assuring. Purchasing a sublimation printer is a big step, and you should feel happy in your decision. You'll be glad you purchased your printer through Equipment Zone because we are here to help you along the way. If you ever have any problems, just give us a call and you will be set up with exclusive technical support.