Is it personalization, mass-personalization, customization, print-on-demand or made to order? What do we call this trend? Maybe it's all of the above – or a combination of them all? There is no doubt that the trend of personalization is growing! Printing live at an event isn't new. Allowing recipients to be engaged with the brand as they choose from between promo items and apparel items, then co-creating or arranging and customizing the graphics to match their personality and have the final item personalized and printed onsite – that's a BIG deal and fairly new!



The first reason for the rise in personalization is the printing technology. The apparel or promo printing equipment and techniques that make printing on site, printing on demand and personalization possible and efficient, are usually centered on the manipulation of variable data and inkjet printing technology. Dye-sublimation transfers, direct-to-substrate printing and DTG (Direct to Garment) inkjet printing isn't new but the printers have become smaller, less expensive and more purpose built in the last few years. More traditional screen printers are investing in direct to garment printing machines because they are regarded as a professional tools designed for success in a production setting. In other words DTG printers no longer look like a science project, using stray parts, built in somebody's garage.

Another reason for the recent rise in customization is the demand from consumers. Amazon and other large online retailers have helped shape the behavior of the consumer. According to Deloitte research 50% of buyers expressed an interest in purchasing customized products and a 25% are willing to pay more for customization. There is also evidence that an increasing numbers of consumers are happy to share some personal data in exchange for a better, more customized product. Most people would agree the buying behavior

In my opinion, there is a third reason. I refer to it as the "emotional needs" of our current culture. In part due to social media platforms, these buyers want to show off. They "need" to prove that they are special. They have an attitude that says, "Look at me! I don't buy my apparel at Target or Macy's. I order my custom apparel online. I'm cool – I'm elite!" They also "need" to be connected to the team or show that they are part of the tribe. This example couldn't be more true than with sports teams!

For years Vans shoes has offered the ability to have customers create their own art, upload designs, chose accessories styles and colors and order their own custom shoes. Vans recently added backpacks to the customization line up. Nike has also offered some customization with some of their shoe styles. Nike now owns the Converse brand and the Chuck Taylor styles of shoes have become a very popular choice to customize.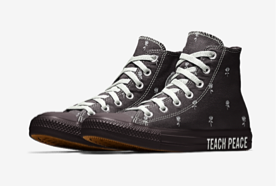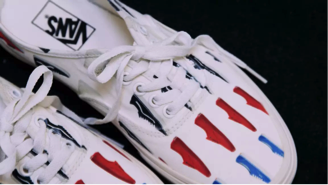 According to the website www.converse.com/c/custom Converse offers two "Customization Studios" that offer hands-on help designing and customizing your new favorite Converse shoes. One is in Boston and the other in New York City. Both locations have a Direct to Garment printer onsite.

More proof of the popularity of personalization with closer-to-home industry applications is the increase in printing on demand for special events. The most recent example I've seen is the partnership between Polo Ralph Lauren and the 2018 Wimbledon Lawn Tennis Championships. Ralph Lauren allowed its iconic Polo shirts to be designed and printed onsite in a huge purple & green double-decker English bus on location at the Wimbledon Lawn & Tennis club. Buyers were able to use a touch screen to make customization decisions. After choosing the color of the shirt, buyers were able to select from popular Wimbledon themed designs for both the front and back imprint locations. Some of the designs allowed for personalization with the buyer's initials, name & number. The polo shirts are printed & pressed on location and delivered back to the buyer in minutes.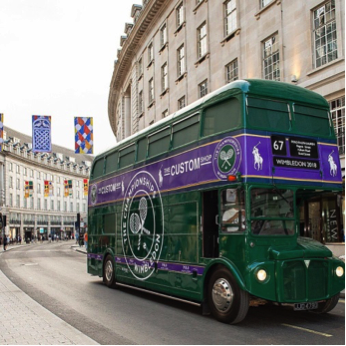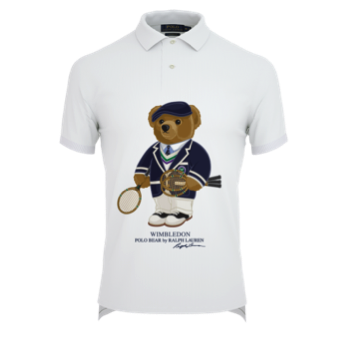 This is very powerful and purposeful branding! Marketing execs LOVE this concept. Attendees at a conference or buyers of a brand have a whole new experience with that brand, message, graphic and theme. This is an engaging, interactive and immersive brand experience. The people who attend these events and participate are no longer ordinary attendees – they become co-builders and co-creators!

Other events and conferences that I have found online that had print-on-demand and custom merchandise opportunities in the last year include:
Nickelodeon Kids Choice Awards (embroidered back packs)
NBA All Star Experience with Adidas (tank tops)
Revlon as part of Fashion Week NYC (tote bags)
Instagram Day Inspire Action conference in Tokyo, Japan (tote bags)
Vogue's Fashion Night Out (tote bags)
Ralph Lauren (polo shirts)
Levis (limited edition 50th anniversary Levi trucker Jackets)
Reebok (tote bags)