What is an EPSON Certified Solution Center?
Encouraging customers to do tremendous things. That's what we all want, and that's exactly what John Meyer, manager, Wide Format Channel, Epson America, Inc. said of partnering with Equipment Zone to create a unique, hands-on Epson experience: the first Epson Certified Solution center located on the East Coast.

Knowing that one-on-one engagement in a comfortable space is one of the best ways to learn, the Epson Certified Solution Center gives Epson customers and potential customers the ability to engage with product experts and even use their own files to run test print samples on the Epson dye-sublimation, signage, photography, and direct-to-garment (DTG) printers.

"These Epson Certified Solution Centers are designed to showcase the depth of capabilities that Epson has to offer, as well as allow end-customers to realize the full potential of partnering with Epson," Meyer said.
What Are The Benefits Of The Epson Solution Center?
With one-on-one demonstrations by the industry experts at Equipment Zone, the Epson Solution Center provides a relaxed atmosphere for customers to explore and discover new technology. Visitors can see for themselves how the latest advancements in print technology can help them grow their business with signage, textile, and photographic print solutions from Epson.
The Equipment Zone staff delights in seeing the engagement and excitement of sign owners -- who have generally had a primary focus of solvent or S-Series printers -- as they watch a direct-to-garment (DTG) printing on 100% cotton t-shirts for the first time. No screens. No mess. Just an unparalleled printing experience in a record amount of time.
The Epson Solution Center will provide customers with a hands-on experience, including:
A full suite of SureColor® production equipment
The opportunity to print their own samples and see new applications
Comprehensive customer training opportunities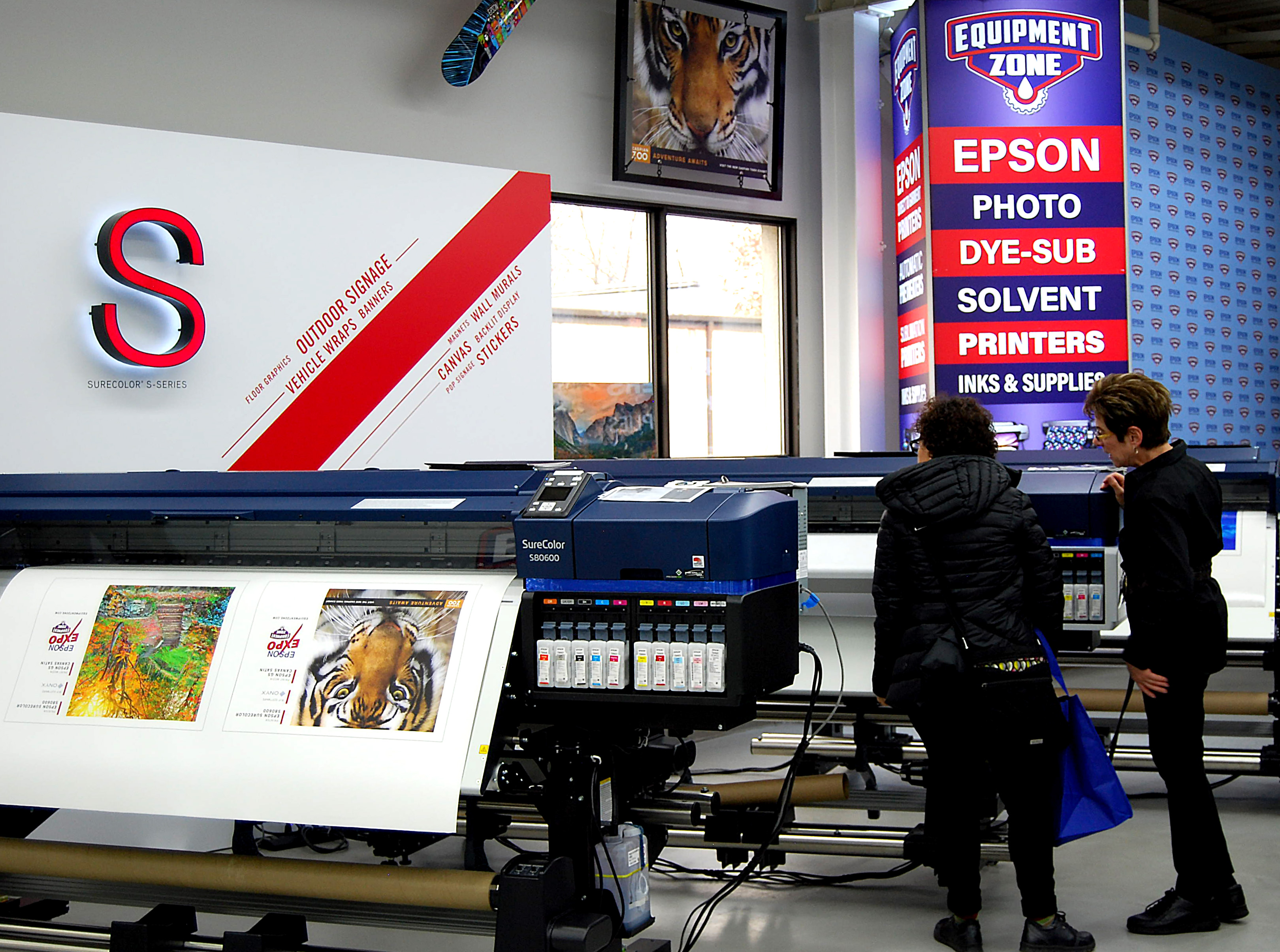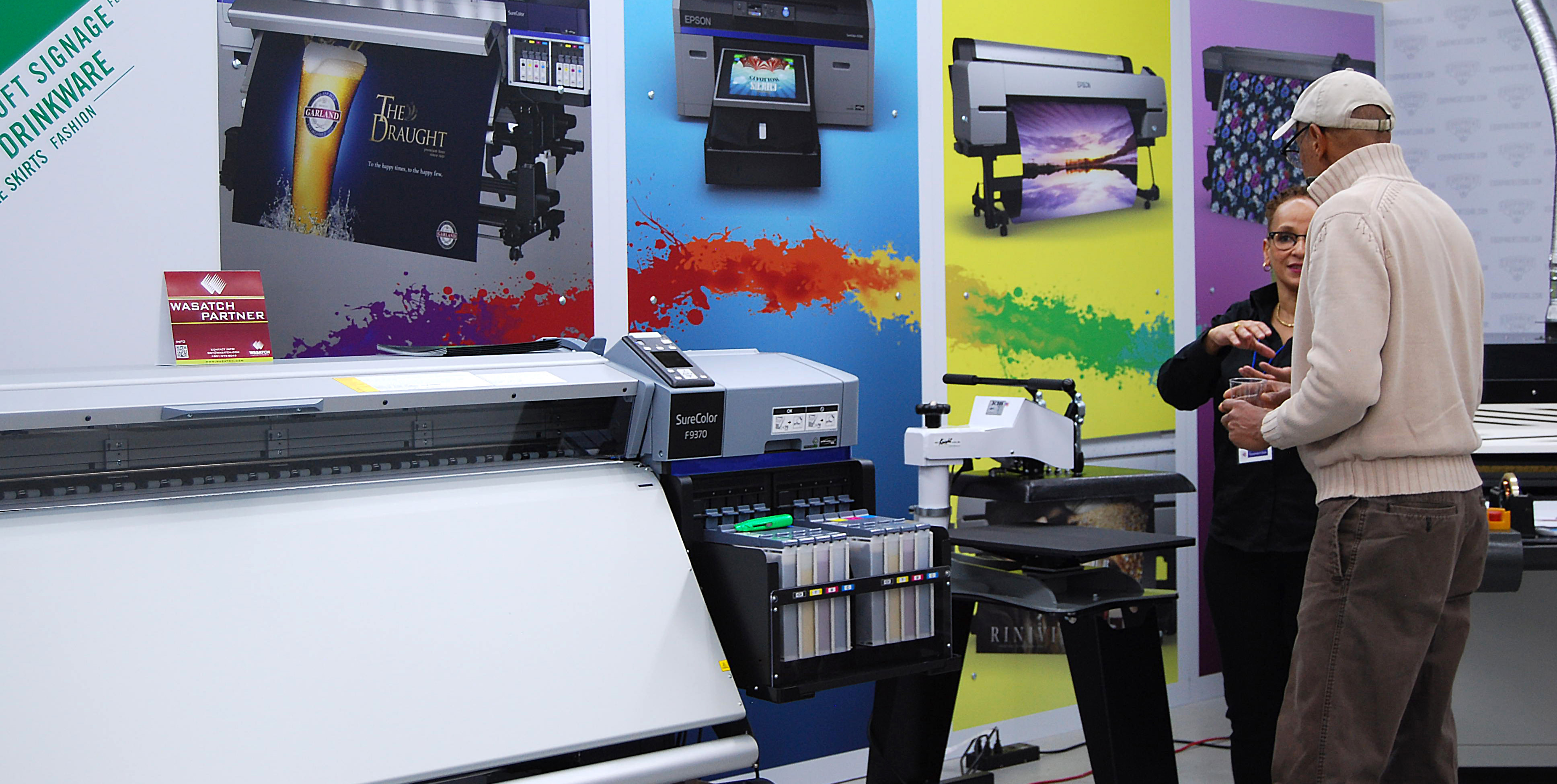 What Is The Epson Expo?
On November 15, 2018, Equipment Zone hosted the the first-annual Epson Expo, an event that provided customers in the New Jersey and New York City area an opportunity to experience the full range of Epson professional solutions.
Over 50 customers and potential customers participated in this event, where they were able to see and work with the Epson F-Series, P-Series, and S-Series production equipment, as well as RIP software, heat presses, vinyl cutters, and the number-one rated automatic pretreat machine in the DTG printing industry, the SpeedTreater-TX. Equipment Zone is the manufacturer of this top-rated automatic pretreatment machine.

Where Is The Epson Certified Solution Center?
You don't need to wait until the next Epson Expo to experience the power and potential of the Solution Center, since the East Coast location of the Epson Certified Solution Center is conveniently located in the Equipment Zone offices -- just minutes from New York City in Franklin Lakes, New Jersey.
We'd love for you to experience this cutting-edge technology. To schedule some time to come and visit the new Equipment Zone Epson Certified Solution Center -- or to learn more about this state-of-the-art facility -- call 800-408-0040 or visit our Solution Center webpage.